including Horry and Georgetown Counties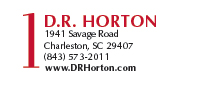 Building homes in the Grand Strand since 2000, D.R. Horton is listed as one of the top builders in the United States. D.R. Horton puts a heavy emphasis on quality craftsmanship and customer service, priding itself on having the flexibility to provide the options and upgrades customers want.
The staff assists customers on every level of home construction, including design, the building process and mortgage acquisition. On questionnaires provided after the process, D.R. Horton always gets high marks from clients about the way they were treated.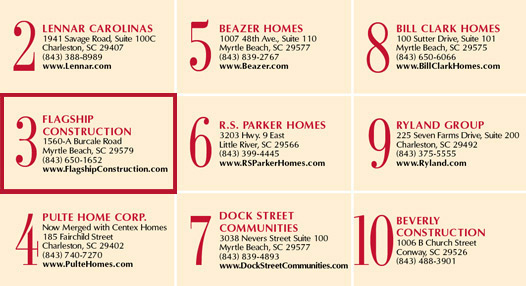 RANKINGS BASED ON TOTAL 2010
DEED TRANSFERS, AS REPORTED BY
MARKET OPPORTUNITY RESEARCH ENTERPRISE,
KNOWN AS THE M.O.R.E. REPORT