The Cape Fear River wends its way through southeastern North Carolina to meet the vast waters of the Atlantic. Its name comes from the fearful combination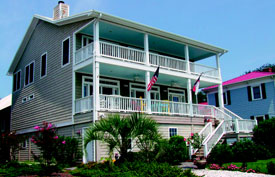 of currents that have spelled watery doom on the Cape Fear Shoals for countless ship's captains courageous enough to challenge its treacherous dominion. At its southernmost end, it flows past Southport and the home at 520 West Brunswick St.
"I bought the lot in the '80s," said Philip King, the original owner and designer of the home. "The Cape Fear River drew me."
It wasn't until 2001 that his retirement home became a reality. After leaving a career in government, King looked forward to spending time with family and friends and carefully crafted a house that would embrace the spirit not only of the river but also of Southport.
"We have wonderful views of the Intracoastal Waterway and Southport Marina and the ocean. You can see two lighthouses, Oak Island and Bald Head Island," King said.
Those fabulous views demanded oversized windows to bridge the indoor space with the outdoors. Wide porches to catch the breeze and encourage loitering are almost a requirement in the South, and these don't disappoint. They are the perfect spot to watch ships make an impressive swing around marker 18, skirting Battery Island – a national wildlife refuge – to make the final turn to the sea near Bald Head Island.
It might be hard to turn away from the ever-changing views of the water, but the interior beckons. A little more than 4,400 square feet, the home includes a light and airy great room and "a nice big, open kitchen" on the main floor, which also features a master bedroom suite, complete with Jaccuzzi tub and steam shower. A small office is located just off the master bedroom. Upstairs there are three additional bedrooms, plus another big porch overlooking the Intracoastal Waterway.
The kitchen is a cook's delight, with top-of-the-line appliances such as a Sub-Zero refrigerator and Viking stove, plus a large pantry. There is a white wine cooler and a separate climate-controlled wine cellar.
The living space invites entertaining, with a complete wet bar and extras such as surround sound and a 50-inch television. Built-in stereo component cabinets and bookcases provide plenty of storage space.
This home offers even more space with an attached, handicap-accessible efficiency apartment, complete with kitchen and private bath. It is located just outside the elevator and features wheelchair-wide doors and grab bars in the shower.
And down below is a 2,900-square-foot combination garage, workshop – equipped with a dedicated 50-amp, 220-volt circuit – and storage area. There is even an additional half bath, conveniently located near the garden door, and an outdoor shower.
"The garage has two overhead doors and three extra entrances," King said. "And the shop has all kinds of storage."
King added that the house was "built right" so that it can withstand North Carolina's unpredictable coastal weather. He made sure to include extras such as two hot water heaters, a vented gas fireplace, a generator and separate electrical circuits.
The house is ideally located in an older, established part of Southport. The diverse neighborhood is a collection of 50 to 100-year-old homes, and shops and restaurants, along with a marina and a scenic walkway.
It is an easy stroll to interesting shops and restaurants serving fresh seafood along the Yacht Basin. The nearby Riverwalk is a popular place to view ocean-going vessels.
Or you can simply relax on one of the spacious porches at 520 West Brunswick.
To find out more about this magnificent home, contact Kim Anne Russ at Southport Realty at (910) 457-7676 or karuss@southport-realty.com, or visit www.Southport-Realty.com.