When looking for that builder for your dream home, whether surfing on line or in the real, physical world, you should be searching for certain traits: integrity; patience; good disposition;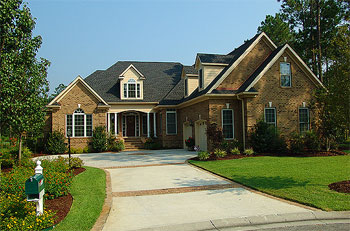 commitment; first-rate reputation; stability and solidity, someone with whom you can have a relationship built on trust and open communication. Naturally, you want a person capable of constructing an affordable, custom home and to truly do the job on time and on budget. What everyone hopes to find is someone they can go the distance with, who, in years to come, will stand by them and their workmanship.
Prospective clients, who desire build a second or retirement home in the coastal Carolinas, often live far away, usually up North. A long-distance relationship with a contractor is a distinctive and often problematic factor. Building that dream home can literally become the absentee's worst nightmare. Again, trust is the operative word here.
Marlene & Stuart Chinnery, formerly of England and now happily housed at Winding River Plantation, Bolivia, NC, share their very long distance experience: "Building our home with Greg (Faurote) was the most friendly, interactive experience. The result was a superbly-built home with quality craftsmanship throughout. Three years later, Greg remains in touch to attend to any issues that may arise. He invests a lot of personal pride in the homes he builds, in relationships with his clients and service after you move in."
Said contractor is the president of Gregory Faurote Builders, Inc. who has been in business for 27 years in Brunswick County, NC. He specializes in custom homes within Intracoastal communities such as Oyster Harbor Plantation and enclaves with golf courses, like Winding River Plantation, Ocean Ridge Plantation and St. James Plantation. He tells his side of the Chinnery experience: "If you can imagine it, I only met with this British couple three times during the entire building process. And we continue to have an affable relationship. My reputation for staying on time and on budget is particularly important in the present economy, especially for retirees."
The contractor uses conference calls, e-mails and social networks for frequent progress reports so that long-distance clients can stay connected. Also, he continued, "I will help those who have yet to find a lot. When secured, I take nature into account, the tree coverage, for example, so that the house and its environment are a good fit. And always there's curb appeal."
One of the most recognized builders in the county, Greg Faurote has 300 unique homes to his credit. An admitted perfectionist, he is a graduate of the University of Florida with degrees in real estate and finance. He hires only the best subcontractors and utilizes the highest quality materials. Best of all, his handshake is solid!
For more information Contact Gregory Faurote Builders, Inc. at (910) 237-2062 or by email [email protected].