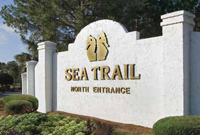 In 1976, a group of men with a vision took advantage of the opportunity to buy almost 700 acres of land in Sunset Beach, North Carolina, from International Paper. Without fanfare, the partners named their investment Sea Trail.
Today, the 2,000-acre Sea Trail Golf Resort & Convention Center offers a tranquil lifestyle for those who yearn to relax on a deck or screened-in porch surrounded by towering trees, lush landscapes and incredible views. Brilliant sunshine, ocean breezes and balmy weather add to the picture of serenity.
At the same time, activities abound at Sea Trail for those whose idea of retirement is daily walks on the beach, unlimited golf, biking and other opportunities to enjoy an active outdoor life. Less energetic endeavors are available, among them card games, mah-jongg and a knitting club.
Sea Trail, located just a mile from the Atlantic Ocean, features three golf courses, tennis courts and the "Pink Palace," an amenities center that includes kitchen facilities, a room seating 120, exercise equipment, pools, a spa and a multipurpose room. Another amenities center offers pools, a hot tub, a meeting room and a library. A chapel and the Paul D. Dennis Gardens are on the grounds, and there's an activity center for short-term guests. The Maples Clubhouse hosts Brassie's Pub and meeting rooms for smaller groups, while The Jones/Byrd Clubhouse, with its three salons, provides meeting and dining space and is adjacent to Magnolias Fine Food & Spirits.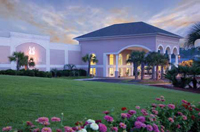 In all, Sea Trail provides more than 58,000 square feet of meeting and function space for weddings and other gatherings, said marketing manager Chris Robertson. The Convention Center's Carolina Ballroom, with its 10,000-plus square feet of space, adds to Sea Trail's appeal.
Anna Marie Kozel, a realtor for 25 years, moved from her hometown of Pittsburgh 1999 with her husband, Al, and bought a home at Sea Trail. Because of Al's health issues, the couple chose to change their lifestyle, work less and enjoy life more.
"Everybody who moves here is happy. It's a sense of comfort. That's what makes it different," Anna Marie said.
After a hiatus from their jobs, the couple returned to work, Al as a consultant to several communities and as a licensed real estate broker along with Anna Marie at Coldwell Banker Sea Coast Realty.
Because people are computer savvy, most of them already know what they want when they visit Sea Trail, Anna Marie said. They soon find out that there's more than what can be learned through a visit to a website.
"Most people buy here because of the amenities. Once they move in, they feel there's a true sense of community and closeness," Anna Marie explained. "If we need help, someone is there. Everyone goes that extra mile to help someone."
"The real story of the place is the people who live here," added Gregg DeCrane, president of Sea Trail Master Association.
Robertson pointed out another advantage of living in or visiting Sea Trail. He said people can enjoy the best of both worlds, taking in the attractions and night life in nearby Myrtle Beach, South Carolina, then returning to the peaceful environment of Sea Trail.
He said despite the uncertain economy, it's "business as usual" at Sea Trail, which offers golf packages, family vacations, weddings, business meetings and conventions, in addition to real estate opportunities.
Dana Connelly, president of Sea Trail Corporation, agreed that the economy hasn't affected the wide range of services offered at Sea Trail. "All you have to do is call and book a function," she said.