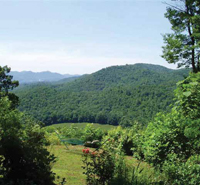 Franklin is literally a gem of a town – the Gem Capital of the World, thanks to an abundance of gems and minerals in the area. Rock hunters flock to Franklin and the Cowee Valley by the thousands in hopes of finding a valuable gemstone. And find them they do; the Cowee Valley and surrounding mines are rich in rubies, sapphires and garnets.
Naturally, you'd expect to find a Gem and Mineral Society in town, and you would not be disappointed. The society runs a museum in an old jailhouse that features gems along with Indian artifacts. The popular Macon County Gemboree has been around for more than 40 years.
Franklin's treasures extend beyond gemstones. Located in the pristine mountains of western North Carolina, the town is surrounded by 16 waterfalls, including Dry Falls, which, at 75-feet-high, is anything but dry and not to be missed. Some falls are easily accessed, while others involve a hike; if you're up to it, you won't be disappointed. The road is steep and winding in places, but the reward is the breathtaking panorama of the ancient mountains.
The area around Franklin offers many opportunities for hikers. Some are short and not too taxing, but there are longer, more strenuous trails for serious hikers. And, of course, the grandest of all, the Appalachian Trail, passes within a few miles of Franklin.
Cycling – both motorized and pedal-powered – is a popular pastime, and the roads are both challenging and rewarding for experienced riders.
Visitors preferring more sedate activities will find those in Franklin. A host of shopping possibilities are available, including quite a few gem shops. And after a long day of shopping or hiking, there are many restaurant options, from fast food to barbecue to fine dining.
The residents of Franklin treasure their town, and it is easy to see why visitors consider making a permanent move to this gem in the North Carolina mountains.