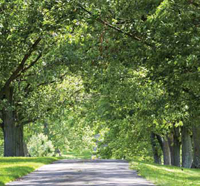 Laurinburg is the county seat – and the heart – of Scotland County, North Carolina Although the size of the town might lead you to believe there isn't much to do here, the opposite is true. The All-American City is home to numerous attractions, including fantastic golf, multiple art galleries, incredible history and seemingly endless acres of naturally beautiful landscape.
Laurinburg also hosts numerous festivals and events, such as the popular Scottish Heritage weekend, where people of Scottish descent – or those who wish they were – gather to celebrate. The town also cherishes its historic past; history buffs will enjoy visiting places such as the John Blue House, which dates to the early 1800s. Blue was a self-educated inventor who helped further the cotton industry with his cotton stalk cutter and the John Blue cotton planter. The estate also features historic cottages.
The first families settled Laurinburg in 1785, but the town was not incorporated until 1877. As with other North Carolina municipalities, the railroad was instrumental in its growth. The first train came through in 1861, just in time to pick up recruits heading off to fight in the Civil War. Because Union troops were trying to take Fort Fisher near Wilmington, townspeople there moved their shops inland to Laurinburg for safety. What was to be a short-lived venture lasted until 1894, when the shops left town and the textile industry moved in.
Laurinburg is accented by fields of cotton, the scenic Lumber River, the Lumber Region and acres upon acres of magnificent pine forests. The town is located conveniently on the southern border of North Carolina, allowing easy travel to the beaches in both North Carolina and South Carolina. Although Laurinburg is primarily thought of as a farming region, industry has made its mark and continues to prosper in the small town.
Scotland County encourages the growth of industry and business and proves that, although small, the town has big-city ideas and big-city possibilities. Laurinburg is an inviting place with friendly residents who blend Scottish charm with Southern hospitality.