including New Hanover county

Stevens Fine Homes, Founded in 1993 by third-generation builder Craig Stevens, has built more than a thousand homes in and around Wilmington, North Carolina. It is the exclusive builder in eight communities, building almost 25 percent of the new homes in New Hanover, Brunswick and Pender counties.
Buyers choose Stevens Fine Homes for many reasons: exceptional craftsmanship; value; a 10-year structural warranty; 90-day build time; and outstanding customer service. The Stevens Energy Wise System, which includes certification from a third party that all homes meet stringent energy efficiency and health requirements, typically cuts utility bills by 25 percent. And many people take advantage of 100-percent USDA financing to purchase a Stevens home for as little as $75 per heated square foot.
Purchasing a home with Stevens Fine Homes is easy; a new home specialist is available at each community to help guide customers through the process. Buyers may choose from homes that are ready for occupancy or work with one of Stevens' design consultants – in the company's 2,500-square-foot design studio – to personalize their new home.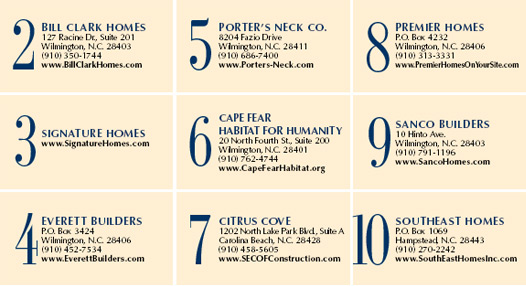 RANKINGS BASED ON TOTAL 2010
DEED TRANSFERS, AS REPORTED BY
MARKET OPPORTUNITY RESEARCH ENTERPRISE,
KNOWN AS THE M.O.R.E. REPORT