Bald Head Island, North Carolina
The North Carolina coast is awash in legends of shipwrecks, pirates and lost treasure. Near Bald Head Island, in the southernmost part of the state, the Cape Fear River meets the Atlantic Ocean. It is one of the most dangerous spots to navigate and many ships have been lost on the treacherous Frying Pan Shoals. Legend has it that one of those unfortunate vessels, The Patriot, went to its watery grave in 1812 while carrying Theodosia Burr Alston to New York City to visit her father, Aaron Burr, one of the nation's founding fathers.
2 Keelson Row
Wendy Wilmot, Realtor®
Asking Price: $1,400,000
6,770 SQUARE FEET
10 BEDROOMS
10.5 BATH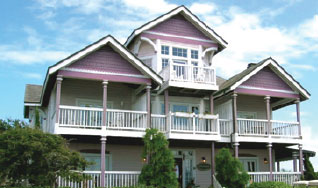 Burr, an unusual man for his time, developed a close relationship with his only child. She was well-educated for a lady of the late 18th and early 19th century and highly skilled in the social graces. Theodosia's mother died when she was just 11, and she soon took over as mistress of Richmond Hill, the Burr family home in New York.
Naturally, the attractive and intelligent Theodosia had quite a few suitors, but she fell in love with Joseph Alston, an aristocrat from the South Carolina coast. Life was not easy for Theodosia. She never fully recovered her health after the birth of her son in 1802 and, in 1804, her father was charged with murder in the death of political rival Alexander Hamilton, the first secretary of the U.S. Treasury. Three years after their duel, he was arrested for conspiracy and, although acquitted, left the country in disgrace. In 1812, a fever claimed the life of Theodosia's beloved son.
Burr had returned to New York and implored Theodosia to sail north for a holiday visit. Despite rumors of pirates patrolling the coast, Alston reluctantly allowed his wife to travel.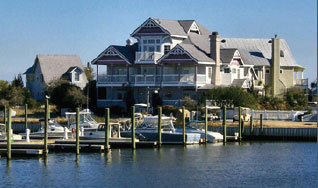 Theodosia never arrived home, and many legends surround her disappearance. One story claims that pirates captured The Patriot along the North Carolina coast; another theory says she perished in a shipwreck.
In 1994, a couple intrigued by the legend built Theodosia's Bed & Breakfast on Bald Head Island, which is accessible only by ferry or private boat. With its views of the Marina, the river and the ocean, Theodosia's served as a B&B under several owners before falling on hard times.
Wendy Wilmot Properties, an affiliate of Leading Real Estate Companies of the World and the top resale company on Bald Head Island, is currently searching for a new innkeeper or a family who will embrace the excitement of returning Theodosia's to the grande dame she once was. This local icon would also be well-suited as a family retreat or a rental property that would accommodate the Island's many wedding parties, golf outings and company retreats.
Theodosia's was designed by architect Michael R. McLeod to blend in with Bald Head Island's other buildings. It is an imposing structure and one of the first that comes into view when arriving in the harbor. The main house contains eight bedrooms – two additional bedrooms are located in the adjacent carriage house – each one with a balcony or porch to maximize the views. Because it was constructed as a large house, it would be easy to convert to another use.
A creative loving owner is needed to give Theodosia's a face-lift, but the team at WWP is confident that they, along with the spirit of Theodosia, will find the right caretaker.
Theodosia Burr Alston would be pleased.