Hard work, quality craftsmanship and customer service have made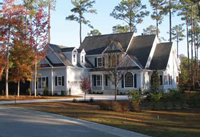 Equity Home Improvement a success since its launch four years ago, when an elite team of experienced construction managers left two of America's most popular big builders and ventured out on their own. Serving the Carolina coastal region from Georgetown and the South Strand to Little River, South Carolina, EHI has established itself among the best management, construction and remodeling teams in the area.
"The way we manage our clients and their projects most definitely sets us apart," stated Bryan Doster, vice president of Equity Home Improvement. "Whether it is for a custom built home or a kitchen remodel, we make sure everything is correct. We don't cut corners, and, if you have issues, we will take care of them. In four years of business, we have experienced a remarkably low warranty claim rate and a wonderfully high repeat and referral rate."
Equity Home Improvement offers a wide range of services, including roofing, decks, garages, outdoor living, custom additions and custom homes. One reason the company is successful is that it works efficiently and within set budgets.
"We understand that without our customers we cannot exist. We have fair prices with an excellent product. We are looking for customers who can refer us to their friends and family without reservation," Doster explained. "Each job is our advertisement. Having clients talk about our professionalism and quality work is the best advertisement there is." Each of EHI's projects is unique because the company's design work is done in-house.
"Every project is different," said Doster. "Custom designs set your home apart from your neighbor's."
Equity Home Improvement usually finishes a custom home in five to seven months, while remodeling a kitchen takes around two weeks.
"Countertops are what can delay a kitchen remodel, but, even then, it doesn't take longer than two weeks," Doster said.
Sunrooms and screened porches are popular additions along the Carolina coast, and Equity Home Improvement offers lots of experience in building them.
"Several of our retired customers like to have the outdoor room or porch where they can enjoy the outdoors, and we make it safe and cost-effective," Doster explained. "We often do this with a product called EZE Breeze."
EZE Breeze, an alternative to screening a porch, protects against pollen and rain.
"Not many homeowners know about this product, but we use it a lot on the beaches because you can close the vinyl, three-season windows and keep out the wind, rain, pollen and the occasional prying eye or simply remove them and enjoy a standard maintenance- free screened porch," Doster said.
Providing customers with structural solutions that are functional and economical is important to the team at Equity Home Improvement. "Word of mouth can make or break a company, and we encourage our clients to share their experiences with Equity Home Improvement,"
Doster said. "We like word of mouth because when people talk about EHI, it is always positive. We do a good job managing projects and completing them on time and budget."
Visit EHI's website at www.ehisc.com for a full list of services, to learn more about the staff or to see a photo gallery of their work. EHI can be reached at (843) 236-7254.