Few towns in North America can boast of a history as long and as interesting as that of Port Royal.
Located between the Beaufort River and Battery Creek and surrounded by the Marine Corps Air Station, Port Royal is just a short drive from Beaufort, which has one of the largest natural harbors on the Atlantic Coast.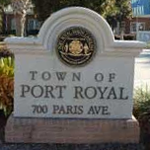 Port Royal is the site of two historical firsts. In 1562, French Captain Jean Ribaut and his crew put down roots near the current town of Port Royal, establishing the first Protestant settlement in North America. When the captain returned to France for supplies and reinforcements, the soldiers he left behind revolted and sailed for France, launching the first ship built in the Americas to cross the Atlantic Ocean.
During its rich history, the Port Royal area has flown under six flags, including those of Spain, France, England, Scotland, the United States and the Confederacy.
While maintaining its sense of history, Port Royal is looking to the future. Adding to its walking trails, community beach, boardwalk and observation tower, the town has launched a revitalization program featuring new homes as well as a remodeled historic district that includes small businesses and fine dining.
Port Royal also offers its residents and visitors 13 golf courses within a 10-mile radius of the city and numerous public parks. In addition, the town is home to two theaters, The Shed and The Port Royal Playhouse, where plays, exhibits and classes in the performing and visual arts are offered. Port Royal combines a rich history with a progressive outlook for the future.