including Charleston, Berkeley and Dorchester counties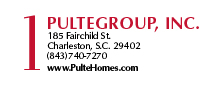 PulteGroup, Inc., based in Bloomfield Hills, Michigan, is America's premier home building company, with operations in 60 markets and 28 states. The company has an unmatched capacity to meet the needs of all segments of the real estate industry through Pulte Homes, Centex Homes and Del Webb.
Pulte offers an unwavering commitment to customer service, removing the worry and confusion from the home-buying process, whether you're buying your first home, need something larger or settling down to enjoy retirement.
First-time homebuyers get the most for their money with a Centex home. From thoughtful floor plans to inviting neighborhoods, Centex provides buyers with a place to call home.
With Del Webb, homeowners can enjoy an active adult community filled with life, energy and people who share the same interests. Every morning provides a clean slate to fill with activities, friends, lifelong learning, volunteering or just trying new things.
Pulte, Centex and Del Webb are currently building in many thriving communities in the Charleston area.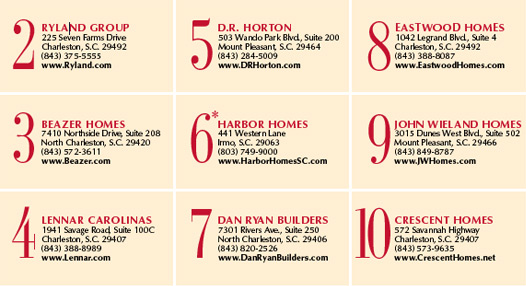 RANKINGS BASED ON TOTAL 2010
DEED TRANSFERS, AS REPORTED BY
MARKET OPPORTUNITY RESEARCH ENTERPRISE,
KNOWN AS THE M.O.R.E. REPORT