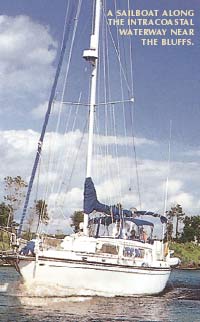 They claim to dole out the perfect hand – an affordable home on the water – and Destiny Development delivers with The Bluffs, a truly spectacular deal. Residents of this Intracoastal community in Myrtle Beach reap the rewards of having played their cards right every day by living the Lowcountry life – complete with the sound of wind over water, the sight of pelicans plunging into the ocean and the smell of summer all year round.
The senses are evoked from the moment you enter The Bluffs. Passing through the security gate, you emerge into a world reminiscent of the Mediterranean. The crispness of the white stucco juxtaposed with the softness of terra cotta red flowers creates a feeling of simplicity and serenity that carries throughout the development's 423 lots.
The clink and clank of halyard lines against a mast echoes the true reason so many people are drawn to the waterway – and The Bluffs gives residents an incentive to get out there. The development's amenities include a community boat ramp, dry boat storage and a boat dock, in addition to a swimming pool, tennis courts, two clubhouses, a walking trail and shared boat docks for waterfront homeowners.
Bridging old and new Myrtle Beach, The Bluffs invites you to get sleepy by the beach or feel alive with the excitement of watching a performance at the Alabama Theater or Carolina Opry. Other entertainment activities, such as symphony orchestras, amateur theater groups, dance troupes or choral societies, satiate any cultural craving, and Myrtle Beach showcases several talented artists in its growing number of galleries.
If golf is more your style, then let the games begin. With more than 100 world-class facilities within minutes of The Bluffs, avid and novice golfers alike can get into the swing of things on courses carrying such heavy hitting names as Arnold Palmer, Tom Fazio and Jack Nicklaus. On its way to making traffic jams a honk of the past, Myrtle Beach continues to improve its highway system. New bridges and roads make it easy and convenient to get about in town or get out of town. Regardless of what's happening outside The Bluffs, though, Jade Thomas, owner of Realty Executives, joked, "Once you enter The Bluffs, you realize you have found paradise and there is no other place you would want to be." A major contributor to the success of The Bluffs, Destiny Development is committed to innovation and craftsmanship. Using building products such as insulated concrete forms, the builder is able to save approximately 13 to 18 trees per house, as well as greatly reduce the homeowner's energy bill. Just as important, these walls were tested at Texas Tech and proved to withstand 260 mile per-hour winds. As a rule of thumb, Destiny Development prefers a hands-on approach to building the perfect home for its clients. "We offer in-house design to assist you with modifying existing plans or customizing a plan to meet your particular needs," Destiny President Jerry Curkendall commented. "Our company prides itself on bringing a unique style of craftsmanship to every home we build, to make your home truly a custom home unlike any other."